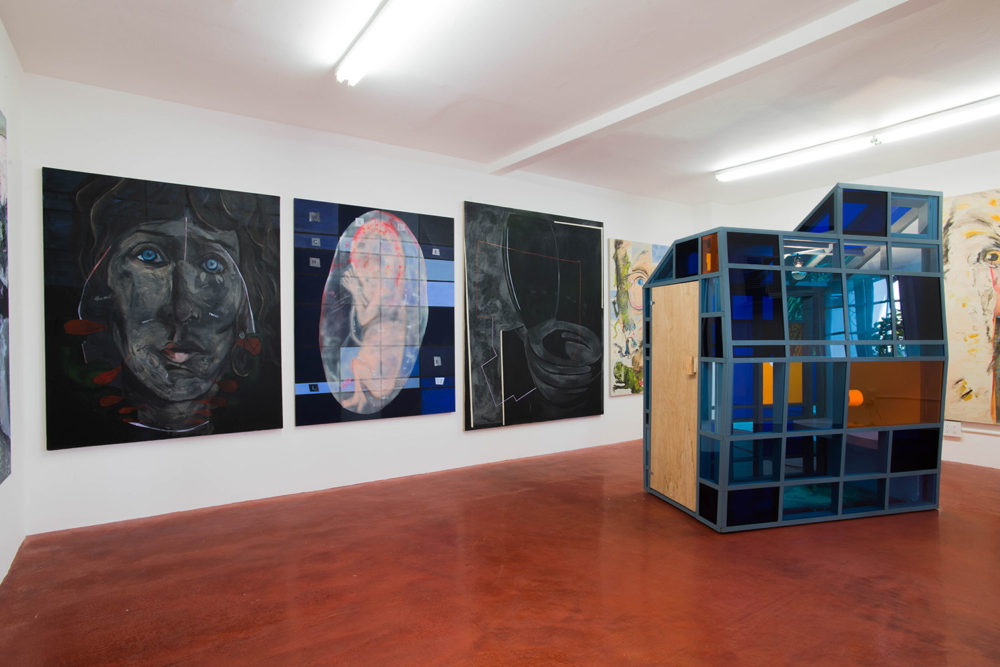 Flash Art – "Mathieu Malouf: Toilet" Review, May 2016
Review of Mathieu Malouf's solo exhibition Toilet at Jenny's, Los Angeles in the May 2016 issue of Flash Art.
With its coalescence of mid-level art dealers, refurbished tenements, bespoke condos and cranberry toasts, the Lower East Side marks ground zero for a late-capitalist ethos exemplified by an overlap between artistic aspiration and finance. Mathieu Malouf makes this very clear at his show "Toilet," comprised of an installation and seven paintings depicting cafes, street styles and luxury apartments, haunted by the figure of the Grinch and the spectre of Bernard Tschumi's 2007 Blue Tower, creeping to the fore of creative class identity.
Malouf channels his subject matter towards the field of contemporary artmaking, diligently encoding and subverting figurative notions in his painted works. As with artists like Merlin Carpenter and Martin Kippenberger, who directly address the social milieu of the art world, its institutions, reflexivity and occasional stupidity, Malouf's portrayal of the next front of creative speculation is wryly self-aware.
Dimes, 2016, painted in a somber palette with impressionist strokes, depicts cafe goers as young, smug urban Grinches, gossiping or engrossed by their laptops. Reminiscent of Kippenberger's Paris Bar, 1993, the work stretches the salon painting into a satiric indictment of New York's aspirational mindset and its contagious spread through the field of artistic production. The outhouse in the center of the gallery is a scaled down version of the Blue Tower with Grinch-green excrement splattered below. Flanked on the outside by four paintings of imagined denizens of the building, Toilet (Lower East Side), 2016, becomes the nexus of the concomitance of creative output and capital. With notes of Liam Gillick's colored plexiglas panels and aluminum grids, Malouf's shed is contaminated by the indelible traces of rampant capitalism.
While providing a setting to contemplate whether the proliferation of contemporary art truly creates spaces for intersubjectivity, or merely hastens a medium of duty-free exchange, this toilet offers no relief.