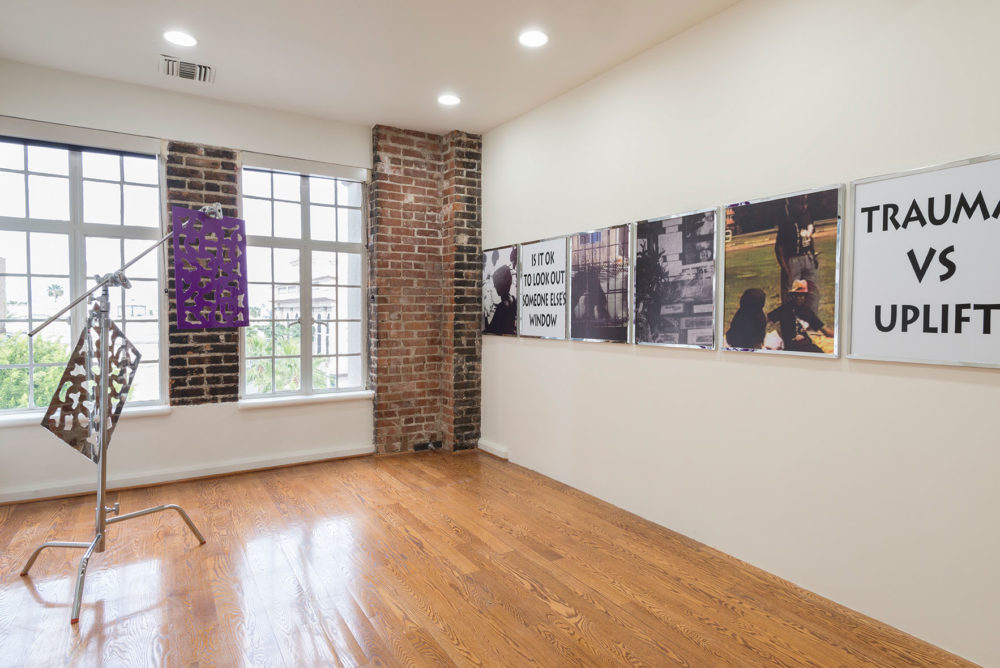 ArtReview – "Martine Syms: COM PORT MENT" Review, May 2016
Review of Martine Syms' solo exhibition COM PORT MENT at Karma International, Los Angeles, in the Summer 2016 issue of ArtReview.
With all the necessary components – lighting stands, video stills and cue cards printed on corrugated plastic – Martine Syms' latest show at Karma International's L.A. space almost alludes to a television pilot under development. It certainly would be fitting if that were the case. Her recent solo show Black Box at Los Angeles' Human Resources presented sixty videos of new and repurposed material stitched together as if accumulated through channel surfing in search of black subjectivity within amateur video and broadcast media. In mining this mass of aggregated video, Syms has found the constituent images for COM PORT MENT, laying each image out as a distilled gesture of black identity.
The show's twenty-nine prints, each placed in reflective silver frames, hang tightly in storyboard-like groupings throughout the compact spaces of the gallery. A triplet behind the gallery's desk hints at notions of mobility and social immobility as, in one piece, dark figures hopelessly try to uproot their car which is smashed against a tree trunk. Across from them, a sign reading 'STAY BLACK AND DIE' hangs next to a heavily contrasted image of James Dean's Griffith Park memorial. Further in, a group of five prints interrogate notions of inevitability and paradox. One panel reads "when entertainment frames the future, it becomes a self-fulfilling prophecy," a quote taken from Syms' essay "The Future of Money and the Technology of Capitalism."
This feedback loop between projection and self-fulfillment continues in the gallery's main room where a cinematic shadowing tool, a cucoloris or 'cookie', is poised against a window and disperses incoming Southern Californian light. On the left hand side of the gallery, an image of a black woman peers towards this window, which is also placed next to a poster asking 'IS IT OK TO LOOK OUT SOMEONE ELSE'S WINDOW.' Well, is it? The view outside looks onto Beverly Hills, a prime signifier of aspiration but also in the 1940s a 'Sundown Town' that forbade blacks from visiting after dark or from owning property. The shadows cast by the 'cookie' reveal that even the naked, gregarious Southern Californian sun has already been divvied up into tracts and unevenly distributed. We'll just have to deal with what's left over.
What is left? One of the panels provides a hint, quoting Afrika Bambataa reflecting on the legacy of DJ Kool Herc, who introduced the breakbeat to hip-hop, '…AND HE JUST KEPT THAT BEAT GOING. IT MIGHT BE THAT CERTAIN PART OF THE RECORD THAT EVERYBODY WAITS FOR–THEY JUST LET THEIR INNER SELF GO AND GET WILD.' At a time when the United States has seen the reemergence of mainstream white supremacism, Martine Syms relies on the repetition and re-casting of the black gesture – whether from music, film, television or literature – as a unit of defiance, pleasure and resilience. In his essay 'Notes on Gesture,' Giorgio Agamben writes, 'An era that has lost its gestures is, for that very reason, obsessed with them.' Martine Syms isn't letting go of them yet.